WE ARE USING THESE PRODUCTS
Gerard Koopman writes this on his own website:
In Erica, also in the immediate vicinity of New Amsterdam, Ep Poelman had a dove that flew the tiles of the roof. Almost unbelievably, the results of this crack. We are talking about "Black Power" NL-93-1767197, from a cross Janssen X Meulemans sprang. Gerard had this pigeon in his sights for some time and then publicly sold from Ep Poelman came, there was no question what went along to New Amsterdam. Gerard bought the "Black...
Read more
ENGLISH

EyeCatcher is a full sister of Olympic Solange and she has a great list of achievements

The fastest in Mantes la Jolie against 20,506 pigeons
Mantes la Jolie 1/10446
Peronne         9/ 5481
Tours          13/11759
Her sister Olympic Solange is one of the big stars of today and possibly the most successful pigeon in the loft of Verkerk.


Read more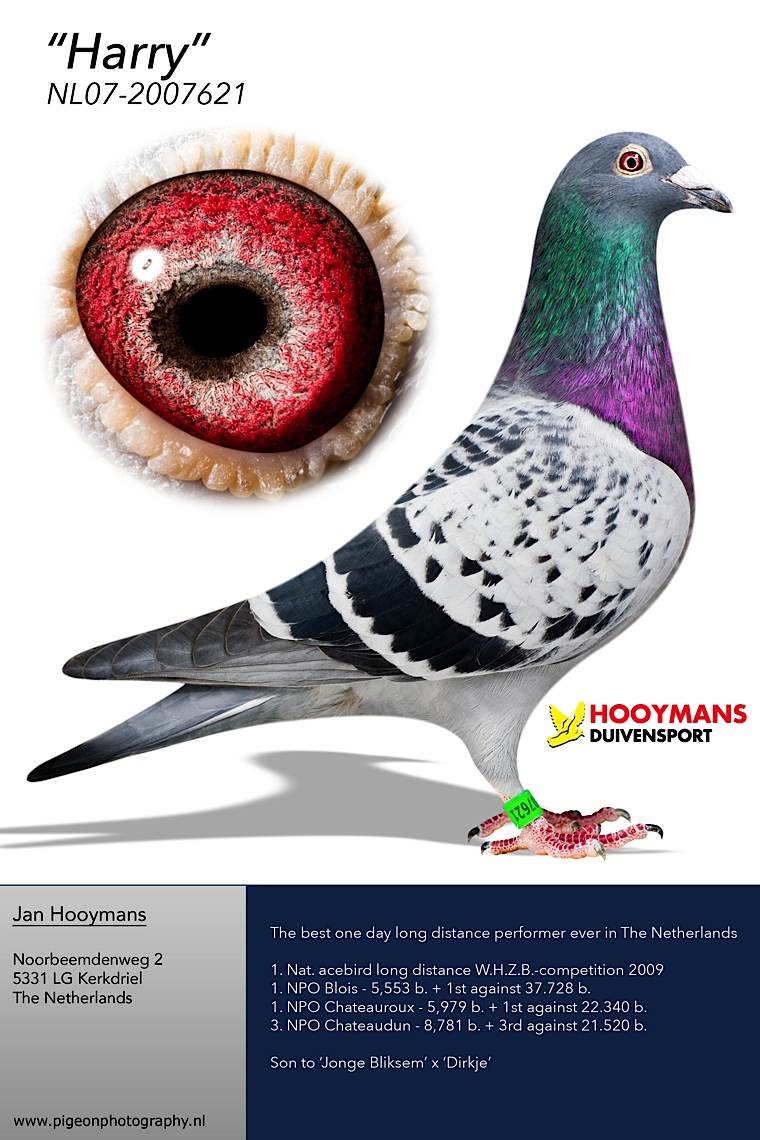 In the oneloft race in Zuid Afrika he made a greate result on a hotspot race saterday morning 15 december 2012. Flight with a distance off 233 km lose at 05.30.am. His pigeon arrived at 08.34.36 and was the fastest of 3338 other pigeons.

Jan Hooymans pigeon PUCH wins a car with one very

strong inbred to superbird Black Power!

Very good reference look below for the pedigree


Read more
Visit website
Bought in 2013 a son of WANDER, he bred from him the 22e Acepigeon of one of the toughest oneloft races in Taiwan.



Read more
Jan Keen has the 2001-5167464 this pigeon named BAS is from the lines 'Black Power'en de 'Witstaart' this magic pigeon is father/grandfather to::

BLACK BOY:
Superbreeder on the loft from Jan Keen, he is father to MICHAEL & SUPER MICHAEL 2!

MICHAEL:
This amzing cock won 5 x TOP 10 NPO with 1e NPO Ablis - 2e NPO Blois - 4e NPO ablis - 10e NPO Orleans - 6e NPO Ablis and he was 2e National Acepigeon Oneday distance and fondmirror...
Read more
Stefan Lyubomirov from spain bought NL14/546 ( FLORIS x WING MAGIC from the basiclines from our loft ) on the online sale from the Derby Golden Algarve this pigeon won in the Golden race the 56e place. He breed from the 14/546 the ESP15/203107 this magic bird won a.o:

ESP15/203107 won o.a:
1* Acepigeon - Derby Mediterraneo
2* Half Final - Derby Mediterraneo




Read more
1
|
2
|